Information for Healthcare Professionals
Safe navigation through soft tissue
The Tuke Saw™ air powered hand unit drives the blade or brush through a circular motion at frequencies of up to 20,000 cycles per minute. The circular motion of only 1.5mm vibrates soft tissues without cutting them. This safety feature allows the surgeon to guide the blade accurately by hand to delicate locations normally inaccessible to conventional power tools.
Blades with teeth on all sides can be advanced to penetrate a cut on the tip or on either side. During resection the uniquely efficient biting tooth shape motion also promotes bone chip removal making the cutting action clean and efficient.
The Tuke Saw™ System features a wide range of blades and brushes for cutting, shaving, shaping, cleaning and finishing, making the system extremely versatile in the field of orthopaedic surgery.
Safe Navigation for 40 years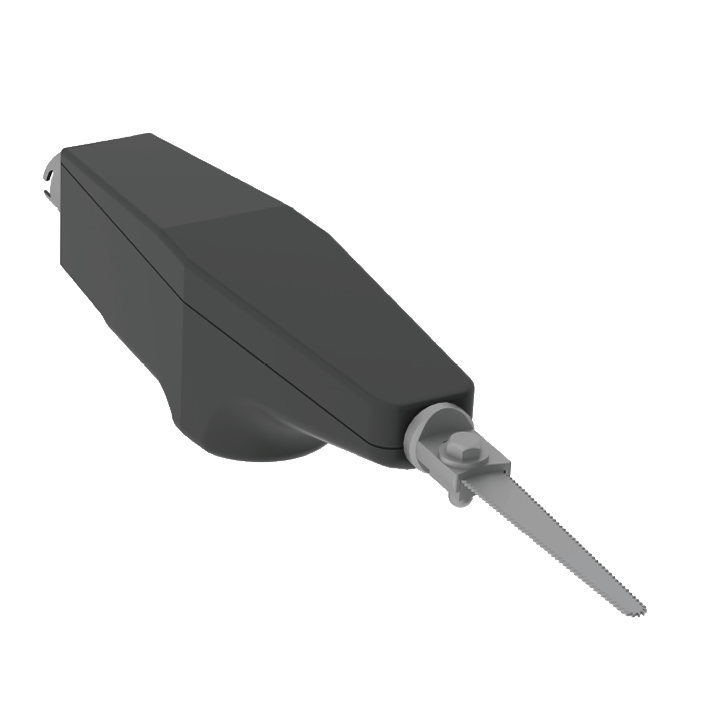 Air-powered hand unit
Air-powered hand unit with industry standard MA7/Schrader connectors
Accessories
The Tuke Saw System includes a range of single-use blades for common large and small joint replacement procedures and in a range of blade thicknesses to fit your guidance systems.
Efficient cutting for cortical and cancellous bone
Safe in contact with soft tissue: vibrates tissues without cutting them allowing accurate resection in delicate areas that are not accessible to standard oscillating saws such as posterior tibia cortex for TKR.
Safe navigation for 40 years
The Tuke Saw System was first developed in 1975 for ankle replacement surgery and expanded into a full system to support successful total joint replacement surgery.
Download Now
Fill in your details below to download the Tuke Saw™ Brochure