Information for Healthcare Professionals
Introduction to ADEPT®
With more than 17 years of supporting clinical data, the evidence demonstrates that the ADEPT® Hip Resurfacing is the best treatment option for many patients.
A trusted, first-class solution
The ADEPT® Hip Resurfacing System has evolved from the development of the Birmingham Hip Resurfacing (BHR). It is the result of a successful combination of the knowledge and experience gained by Finsbury (now MatOrtho®) from our direct involvement as the original manufacturing specialists along with extensive research into historically successful MoM devices.
The ADEPT® Hip Resurfacing System has been in successful clinical use globally for over 16 years. Clinical data shows that:
Younger and more active patients are being accepted for hip replacement (63% of resurfacing patients in Australia are under 55 years old [1])
Hip resurfacing patients are free to return to work and active lifestyles [2-3] without compromised function.
Mid-term survivorship for the ADEPT® is class-leading [1,4] with a lower revision rate than total hip replacement in younger patients [1] and an ODEP 10A rating [5].
Delivering results through performance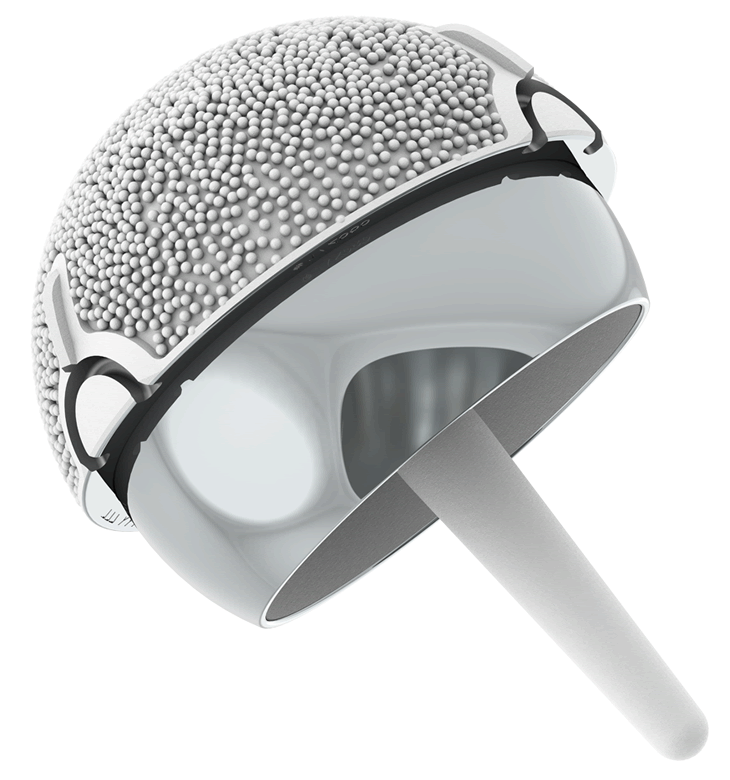 Superior function
Constant ROM for all sizes
Extremely low rate of dislocation compared to THR
Bone conserving
Low friction, fluid-film lubrication bearing
Natural feel and ROM
Optimised design
Proven fixation
Optimised clearance for long-term low wear
Coverage constant throughout range
Metallurgy optimised from the 1960s
Still produced by the original manufacturing
specialists
First class clinical data
Proven low NJR revision and mortality rates
Lowest revision rates and ODEP 13A1
Higher function for physiologically young patients
Early intervention for patients likely to outlive a THR
Based on 50-year heritage of successful MoM THRs
Simple, proven instrumentation
Optimised sizing and preparation tools
Simple, reliable neck centring devices
Simple, reliable cup alignment technique
Low profile cup introduction
Safe head cement pressurisation
Implant and sizing options
2mm head size increments to reproduce
natural head diameter
Minimal cup wall thickness for minimal reaming
Two cup sizes for every head size
Available range 46mm to 58mm bearings
Benefits of hip resurfacing over total hip replacement
Surgeons allow their hip resurfacing patients to return to a wider variety of sport and leisure activities without restriction than with a total hip replacement [7,3].
Hip resurfacing significantly reduces the risk of dislocation as compared to total hip replacement [8].
Hip resurfacing is more conservative than THR and has a lower risk of postoperative infection [8].
Patients receiving a hip resurfacing device have a lower risk of mortality compared to THR [9,10].
Patient satisfaction for the ADEPT® Hip Resurfacing is over 95% [11].
Expert insights from surgeons
Below, are several useful and informative presentations on the outcomes from surgeons who currently practice hip resurfacing.
Download Now
Fill in your details below to download the ADEPT® Flyer.
ADEPT® Clinical Rationale
Download Now
Fill in your details below to download the ADEPT® Clinical Rationale
Download Now
Fill in your details below to download the ADEPT® Brochure.
ADEPT® Operative Technique
Download Now
Fill in your details below to download the ADEPT® Operative Technique