MatOrtho® is delighted to announce that the ReCerf® device is the world's first all-ceramic hip resurfacing device to be granted Breakthrough Device Designation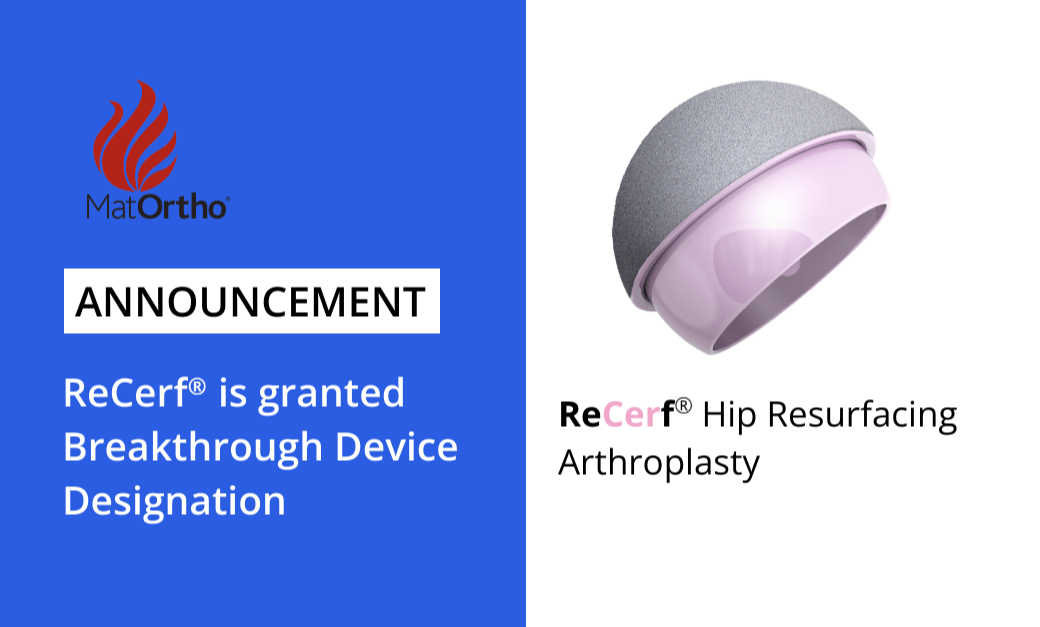 As regulatory processes have become more complex and protracted in recent years, the FDA have recognised the need to help patients have more timely access to medical devices that provide a more effective treatment of irreversibly debilitating diseases.
To expedite the development and review of so-called 'breakthrough technologies' FDA piloted an Innovation Pathway in 2011, followed by a Priority Review Program in 2013, and an Expedited Access Pathway in 2015. In 2018 these programs were replaced by a Breakthrough Devices Program (BDP).
The purpose of the BDP is to expedite the development and assessment of qualifying devices subject to premarket approval application (PMA) or premarket notification (510(k)), and to prioritise their review. The process is fundamentally about interactive and timely communication between the FDA and a sponsoring organisation, while preserving standards for safety and effectiveness.
The program is not available to all devices and the first step is for the FDA to assess whether a device qualifies for the program. Only when breakthrough designation has been granted for a device can activities progress to expedite its development and prioritise its review.
To qualify for the program, it must be demonstrated that a device will provide a more effective treatment for an irreversibly debilitating disease than the current standard of care (SOC) in the US. The device must also represent a breakthrough technology, apply where no approved or cleared alternatives exist, offer significant advantages over existing alternatives including improve patient quality of life, or otherwise be in the best interest of patients.
Total Hip Replacement
Hip replacement surgery is one of the most successful and cost-effective interventions in medicine providing significant gains in quality of life for many thousands of people every year, and growing year on year. National Joint Replacement Registers have become an important source of information for healthcare providers and patients over recent decades reporting on the success of these operations. Registers have not been recording data long enough to be certain how long modern devices will last, but most patients over 65 years old can reasonably expect their hip replacement to last for the rest of their lives.
However, osteoarthritis is also one of the leading causes of disability for people aged 50-64 (Vos, 2015) and the number of these younger patients needing hip replacement surgery is increasing. Not only do younger patients need their hip to last longer, registry data shows that they have a higher rate of revisions than older patients, with increasing rate after 15-20 years. It has also been shown that when a total hip replacement surgery is considered successful, patient's ability to return to work and an active lifestyle is varied, with many having to adapt to some degree of limitation. The challenge therefore is that a growing number of younger patients must decide how long to delay surgery, or accept limitations following total hip replacement on their post-operative activities and a high likelihood of more complex revision surgery in their lifetime.
Hip Resurfacing
Hip resurfacing is a desirable, more conservative alternative to established total hip replacement, particularly for younger patients. Instead of removing the top of the femur to accept a stem, hip resurfacing preserves the natural, healthy bone, removing only the worn cartilage. Resurfacing the hip maintains the natural joint allowing patients to return to normal, age-appropriate high levels of activity and return to work including manual labour. If the patient does later require a reoperation, the device can more easily be revised to a standard total hip replacement.
The concept was tried in 1930s (Wiles, 1958) and again in the 1970s (Freeman, 1975) but each time there were issues with engineering and materials. It wasn't until the late 1990s that with the help of a UK company Finsbury Orthopaedics (now MatOrtho Ltd.) so-called modern-day hip resurfacing was made possible with the Birmingham Hip Replacement (McMinn 1996). Initially the operation was deemed a great success, and several companies entered the market with their own versions. However, problems with some designs, surgeon inexperience and poor patient selection led to problems, particularly for a proportion of patients who experienced adverse reactions to excessive metal wear debris from the bearings.
Over the last decade, the problematic devices have been removed from use and only two remain globally – the ADEPT® and BHR, both developed by Finsbury (now MatOrtho Ltd.). Surgeons who continue to use these devices are highly experienced and only use them for selected patients. There is now a wealth of data that demonstrates that with the right device, well-trained surgeons and appropriately selected patients, hip resurfacing does provide superior outcomes to THR particularly in younger patients, and beyond 20 years is less likely to have been revised than THR. In the US, the only approved devices available to patients are for total hip replacement surgery or one resurfacing device which is only for larger male patients.
Ceramic Hip Resurfacing
Hip arthritis remains an irreversible debilitating disease with a substantial impact on day-to-day functioning and, with an increase in younger patients suffering from it, advances in its treatment are needed.
Advanced ceramics have become commonplace in recent years with a wide variety of applications. BIOLOX delta ceramic has been in use for 20-years. It is biologically inert, has the lowest wear rate of currently available bearing materials and in THR the lowest failure rates of all bearing materials including in younger patients. The potential gains from combining a well-designed hip resurfacing with this material, and incorporating all lessons learned from recent years to training specialist surgeons are highly desirable, and this presents a real opportunity for many younger US patients with hip disease.
Breakthrough Designation
The FDA have recently completed their review of the ReCerf® Ceramic Hip Resurfacing device. The knowledge and experience gained by the MatOrtho® team over the last 25 years for pre-existing successful hip resurfacing, wider data for successful hip resurfacing and current data for the ReCerf® Hip resurfacing has all been examined in detail. ReCerf® has been developed over the last 10 years and has been in clinical use for selected patients since 2018 based on individual prescription or clinical trial in a small number of countries around the world including the UK, Europe, Australia, South Africa, and Canada. Based on prior experience, substantial pre-clinical testing, preliminary data so far, and expectation that it will function as intended.
MatOrtho® is delighted with the FDAs decision that the ReCerf® Hip Resurfacing meets the required criteria and has been granted designation as a Breakthrough Device.

Next steps
MatOrtho will continue to work with the FDA with the objective of a more efficient, transparent, and timely device assessment. The goal is to support premarket approval while still meeting the statutory standard of reasonable assurance of safety and effectiveness for the right balance of timely patient access to important new technology without undermining patient safety.
MatOrtho® believes that ReCerf® will offer a significant advantage to surgeons and patients in the US and looks forward to continuing working with the FDA on this exciting project so that patients can access it as soon as possible.
___________________________________________________________________
References:
1. Vos T et al. Global, regional, and national incidence, prevalence, and years lived with disability for 310 diseases and injuries, 1990–2015: a systematic analysis for the Global Burden of Disease Study 2015. Lancet; 2016; 388: 1545–602.
2. Wiles P. (1958) The surgery of the osteo-arthritic hip. British Journal of Surgery 45:488–97.
3. Freeman M A R, Swanson S A V, Day W H, Thomas R J. (1975) Proceedings: conservative total replacement of the hip. Journal of Bone and Joint Surgery (B) 57:114.
4. McMinn D J W, Treacy R, Lin K, Pynsent P. (1996) Metal-on-metal surface replacement of the hip. Experience of the McMinn prosthesis. Clinical Orthopaedics and Related Research 329: S89–S98.