Changing the lives of patients
Welcome to MatOrtho®, a company established by Mike Tuke in 2010 to continue the pioneering work of almost four decades conducted by his previous company, Finsbury Orthopaedics Limited, one of the most innovative British medical device manufacturers to date.
Mike's vision for MatOrtho® is to grow the business based on the design principles established by Finsbury and to be acknowledged as a pioneering trendsetter in the field of orthopaedic implant devices.
MatOrtho® is focused on improving the quality of life of all patients who receive one of its devices. The passion, knowledge and innovation which drove Finsbury lives on and is applied in a dynamic and ethical way.
Based in Leatherhead, MatOrtho® continues to employ many original Finsbury staff, who continue to manufacture and provide the supply of internationally-recognised orthopaedic implant devices such as the SAIPH® Knee System and the ADEPT® Hip Resurfacing System.
Our heritage is a true reflection of our commitment and responsibility as suppliers to medical professionals and, through continued investment in new technologies and product development, we aim to further demonstrate that commitment.
MatOrtho® today
Now firmly established as pioneers of orthopaedic implant devices, MatOrtho® today is committed to building sustainable value in the future. We are incredibly proud of our status as the 'Originators' of the medially stabilised knee and as the 'Home of Hip Resurfacing'. We continue, and will always strive for next generation innovation.
Although Covid-19 has presented the most testing time for our manufacturing business we recognise our position as being at the heart of the UK economy and despite tough trading conditions we have remained both open for business and fully operational throughout the pandemic.
We believe that by being both versatile and innovative, we have provided the foundation of a successful company and our heritage clearly demonstrates this. Our research team continues to work on many studies to ensure the very best outcomes for all patients receiving a MatOrtho® device and the development team continues to deliver pioneering advances to our product portfolio.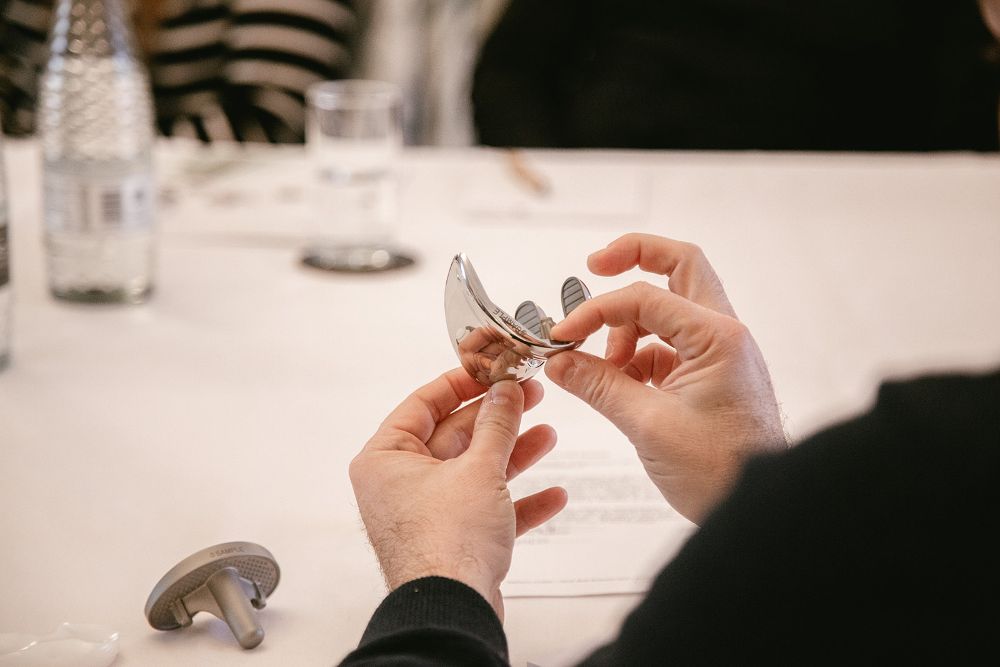 MatOrtho® is a UK-based orthopaedic medical devices manufacturer with an excellent heritage and aims to become acknowledged as a pioneering trendsetter in the field of orthopaedic implant devices.
We are focused on improving the quality of life of all patients who receive one of our devices by supporting orthopaedic leaders with passion, knowledge and innovation applied dynamically and ethically.
In doing so the company values the following principles and beliefs that guide its actions and decisions:
People
We embrace a culture of innovation by encouraging open communication and collaboration. We recognise and reward employees for their contributions.
Patient
Patients are at the heart of everything we do. By collaborating with orthopaedic surgeons and other health care professionals, we can improve patient satisfaction by developing innovative implants, and provide supportive training and education.
Planet
MatOrtho® is concerned for the planet and is taking steps to become more energy-efficient. We have introduced of energy-efficient processes that will reduce our waste production and we are carefully managing our supply chain.
Performance
The organisation is committed to using its financial resources in a responsible and effective manner to ensure financial stability, long-term sustainable growth and success.
1985
Founded Corin Medical
1990
Specified McMinn Hip for Corin manufacture
1997
Collaborated with McMinn on BHR design
1998
Manufacture and supply of BHR to MMT Ltd
2011
Finsbury becomes MatOrtho®
ADEPT® continues with manufacturing specialists
2019
SAIPH® knee has over 10-years of data:
Lower revision rates than MRKTM, >95% satisfaction
2022
SAIPH® knee awarded ODEP 7A
MRKTM awarded ODEP 15A